Nearly a century and a half ago in 1872, Kumanoya began importing Western paints at a time when only natural dyes and pigments were available in Japan. We were among the first to realize that paints could be used not only to apply color, but through the power of chemistry could also function to prevent rust and corrosion. At the time, the word for "paint" (toryou) did not even exist in Japan, and Kumanoya was the first to use it. Ourperspective in looking far ahead while at the same time maintaining a broad field of view has remained the same ever since our founding. With our ability to find accurate solutions to problems, we have continued to give paints new functions as we paint over conventional ideas. Different paint types are used depending on the material being painted, and the functions required of a paint as well depend on the location and conditions where it is used. Consideration must also be given to the surrounding environment. It is the mission of Kumanoya to consider and identify all these factors, and apply our power of imagination and creativity to provide proposals that exceed the customers' expectations. In all areas, including the future, the places where our customers' products are used, the factors that affect these products, and the effects that these products have, we will continue to always look 100 steps ahead.

We provide state-of-the-art optimal solutions by variety of coating products for material protection and surface treatment.
Name
KUMANOYA CORPORATION
Founded
January 1872
Address
4-5-12 Nihombashi-honcho, Chuo,
Tokyo 103-0023
Capital
62.3 million yen
Representative
Takamichi Naka, President
Employees
37 (as of October 2020)
Main banks
Sumitomo Mitsui Banking Corporation, Mizuho Bank, Bank of Tokyo Mitsubishi UFJ, Resona Bank
Affiliated industry
organizations
Japan Paint Manufacturers Association,
others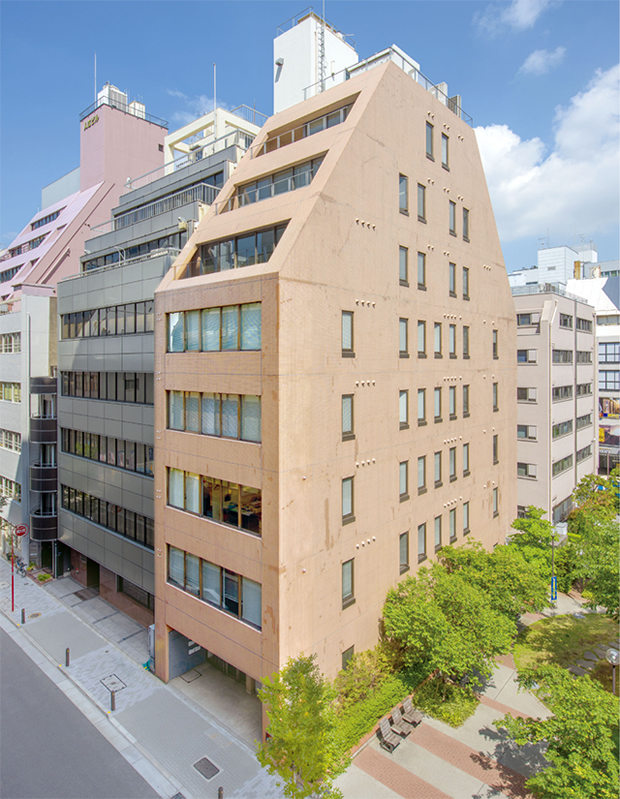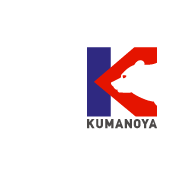 The new logo mark that was created in June 2015 features a symbolic design of the "K" from Kumanoya, in dark blue color, symbolizing history and traditions, combined with a rich red color suggesting advancement and innovation. The iconic bear of our trademark expresses the company's approach of always pushing to the forefront of the times with a solid business footing.


Tokyo
4-5-12 Nihombashi-honcho, Chuo, Tokyo 103-0023
Tel: +81-3-3231-5240 Fax: +81-3-3231-5293
Kitakanto
NKC Bldg. 502, 1-2-43 Jonan, Mito, Ibaraki 310-0803
Tel: +81-29-215-9521 Fax: +81-29-215-9522
Kuki
23-1 Shobucho Showanuma, Kuki, Saitama 346-0101
Tel: +81-480-38-6051 Fax: +81-480-38-6052
Kimitsu NS
Keiyokimitsu Bldg. 208 1-3-3 Takayanagi, Kisarazu, Chiba 299-1144
Tel: +81-439-29-5561 Fax: +81-439-29-5562
Meishin
Links Bldg. 3F 19-10 Nishinosho, Otsu, Shiga 525-0818
Tel: +81-77-548-8666 Fax: +81-77-548-8667
Hiroshima
Aphrodite 301 2-14 Kinyacho, Hiroshima Minami-ku, Hiroshima 737-0004
Tel: +81-82-567-4200 Fax: +81-82-567-4211
Yangon


(Myanmar)

Kumanoya KTM Co.,Ltd.
Building-2 Room001, Mingalar Sin Min Housing, Ahlone T/S,Yangon, Myanmar C/O
Kyaw Two Marine Co., Ltd,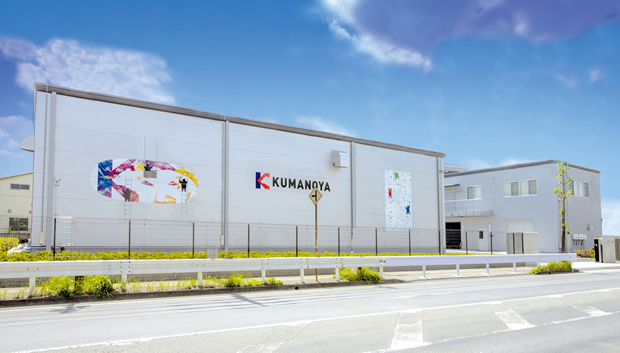 East Japan Distribution Center
/ Laboratory
23-1 Shobucho Showanuma,
Kuki, Saitama 346-0101
Tel: +81-480-38-6051
Fax: +81-480-38-6052
West Japan Distribution Center
6-2-10 Aga-minami, Kure,
Hiroshima 737-0004
Tel: +81-823-36-5105
Fax: +81-823-74-2101

During the 148 years since our founding, Kumanoya has traveled the long road of our history together with our customers. We have gained experience and expertise, and brought new functions and value into being. We will continue to paint over conventional ideas as we travel into the future.
January 1872


Naka Manbe Shoten (predecessor of Kumanoya)
was founded.
1915


The partnership firm was founded.
January 1934


The joint-stock company was founded.
May 1968


Capital reached 19.8 million yen.v
pril 1969


The Sales Division (KUMANOYA CORPORATION) and Real Estate Division (Hongin Co., Ltd.) became separate companies.
April 1992


Event held to commemorate the 120th Anniversary of Kumanoya.
June 2014


Kumanoya became a wholly-owned subsidiary of Hongin.
June 2015


Hongin absorbed and merged with Kumanoya, adopting "KUMANOYA CORPORATION" as the company name and creating a new logo mark.
April 2016


The East Japan and West Japan Distribution Centers were established to improve logistics functions.
The Meishin Office and Overseas Sales Division
were created to strengthen sales capabilities.
June 2016


Capital reached 39.80 million yen as a result of the 2015 merger.
December 2016


Established local subsidiary Kumanoya KTM Co.,Ltd.in Yangon,Myanmar.
December 2017


Capital 62.3million yen.

Japan
Government
Japan Ministry of Defense
Japan (Ground,Maritime,Air)Self Defense Force
Ministry of Foreign Affairs
Steel
NIPPON STEEL
NIPPON STEEL METAL PRODUCTS
NIPPON STEEL COATED SHEET
Daido Steel
Nikken Kougyo
IHI Construction Materials
JFE Steel
JFE Galvanizing & Coating
JFE Metal Products &Engineering
JFE Wing
JFE Container
Nippon Chuzo
Sanwa Tekki
Shipbuilding
Japan Marine United
JMU AMTEC
Kanda Shipbuilding
Nakatani Shipbuilding
KEGOYA DOCK
Heavy industry
IHI
IHI Infrastructure Systems
IHI Construction Service
IHI Transport Machinery
Voith IHI Paper Technology
Mitsubishi Heavy Industries
SUBARU
Kawasaki Heavy Industries
JFE Engineering
Electrical equipment
Hitachi
Hitachi Building Systems
Hitachi Global Life Solutions
Hitachi-GE Nuclear Energy
Hitachi-Johnson Controls Air Conditioning
Hitachi Nico Transmission
Hitachi High-Technologies
Hitachi High-Tech Materials
Hitachi Power Solutions
Hitachi Industrial Products
Hitachi ConstructionMachinery Japan
Hitachi Kokusai Electric
Maxell
Mitsubishi Power
Toshiba
Toshiba Energy Systems & Solutions
Toshiba Mitsubishi Electric Industrial Systems
NEC Corporation
NEC Network and Sensor Systems
NEC Platforms
NEC Facilities
NEC Management Partner
Nippon Avionics
Meidensha
Meiden System Manufacturing
Meiden Kiden Kogyo
Kofu Meidensha Electric Mfg.
Meiden Engineering
Yokogawa Electric
Yokogawa Manufacturing
Yokogawa Test & Measurement
Yokogawa Denshikiki
Fuji Electric
Fuji Electric F-Tech
Fuji Electric FA Components & Systems
Koito Electric Industries
EYE LIGHTING SYSTEMS
Aerospace
IHI
IHI Aerospace
IHI Aero Manufacturing
Mitsubishi Heavy Industries
NEC Space Technologies
Shipping
MOL Techno-Trade
MOL Ferry
Temm Maritime
P&F Marine
SEACREST
YAEGAKI SENPAKU
KOYO KAIKO
FUJI KISEN
Ryusho Kisen
TOEI KISEN
SUN ALLIANCE
OKII KAIUN
CHICHIFUKU GUMI
RIKI KAIUN
SHIMAZAKI KAIUN
SANYO SHOSEN
SHINOMIYA TANKER
Machinery
SHIBAURA MACHINE
IHI Compressor and Machinery
MITSUBISHI HEAVYINDUSTRIES COMPRESSOR
Mitsui Seiki Kogyo
Asahi Sunac
Katsura
Chugoku Plant
Fuji Manufacturing
Miura
Anest Iwata
Parker Engineering
Chemicals
Asahi Kasei
Edogawa Gosei
Oshima Kogyo
Ohashi Chemical Industries
Kansai Paint
Kyocera
Kuboko Paint
SANSAIKAKO
Shinto Paint
Somay-Q Technology
Daishin Chemical
Daido
Dai Nippon Toryo
Taiho Chemical Industry
Daiho Paint
Taiyo Toryo
Chugoku Marine Paints
Tokyo Paint
NOF
NiGK
Nitto Chemical
Nihon Chuo Kenkyujo
Nihon Tokushu Toryo
Nihon Parkerizing
Nippon Paint
Nekken Chemical Industry
Higashi Nippon Toryo
Showa Denko Materials
Mizutani Paint
Musashi Paint
Musashino Chemical Laboratory
Meiden Chemical
Yokohama Rubber
Aquas
Okitsumo
Sunday Paint
Sumiron
ThreeBond
Daizo
Taseto
Natoco
Roval
Rock Paint
Transportation
ANA
ANA Sky Building Service
ANA Narita Airport Services
MRO Japan
Tobu Railway
Keisei Electric Railway
Keisei Bus
Japan Transport Engineering
Electricity and gas
Tokyo Gas
TEPCO Power Grid
Paints
Hitachi Power Solutions
Nakamura Painting
Parker Kako
KUBOI Coating Works
Other fields
Mitsui-Soko Express
MOL Logistics(Japan)
Japan Freight Railway ChugokuLogistics Company
YAMATO GLOBALLOGISTICS JAPAN
PLUS
Yoshimoto Pole
Trading companies
NIPPON STEEL TRADING
Meiwa
Itochu Plastics
Shinwasangyo
Ohtsuka Brush Mfg.
Usami Energy
Mitsubishi
HIPUS  
Overseas
China
Dalian Hitachi Machinery & Equipment
Meiwa (Shanghai)
Yokogawa Electric CorporationChina
Korea
KT Marine
Indonesia
PT. Yokogawa Manufacturing Batam
Singapore
Yokogawa Electric CorporationAsia
Thailand
CCI AUTOMOTIVE PRODUCTS
KONY SUNRISE TRADING
YOKOHAMA RUBBER(THAILAND)
Sim GS Battery
Malaysia
Meiden Metal Engineering (Meidensha)
Myanmar
GOSHU-A1 ECO BUSINESS
Kansai Paint Myanmar
KYAW TWO MARINE
SUZUKI THILAWA MOTOR
TAN CHONG MOTOR(MYANMAR)
TOYOTA MYANMAR
TODA CORPORATION Yangon Branch Office
USA
Carboline(Japan Carboline)
Cortec
LORD(LORD Japan)
Momentive Performance Materials Worldwide LLC(Momentive Performance Materials Japan)
NORDSON
PANTHEON CHEMICAL
PPG Industries (PPG PMC Japan)
Socomore
The Netherlands
Akzo Nobel
Blygold(Blygold JAPAN)
Germany
Fischer (Fischer Instruments)
Gema
Merck
Wagner (Wagner-Hosokawa Micron)
Norway
Jotun